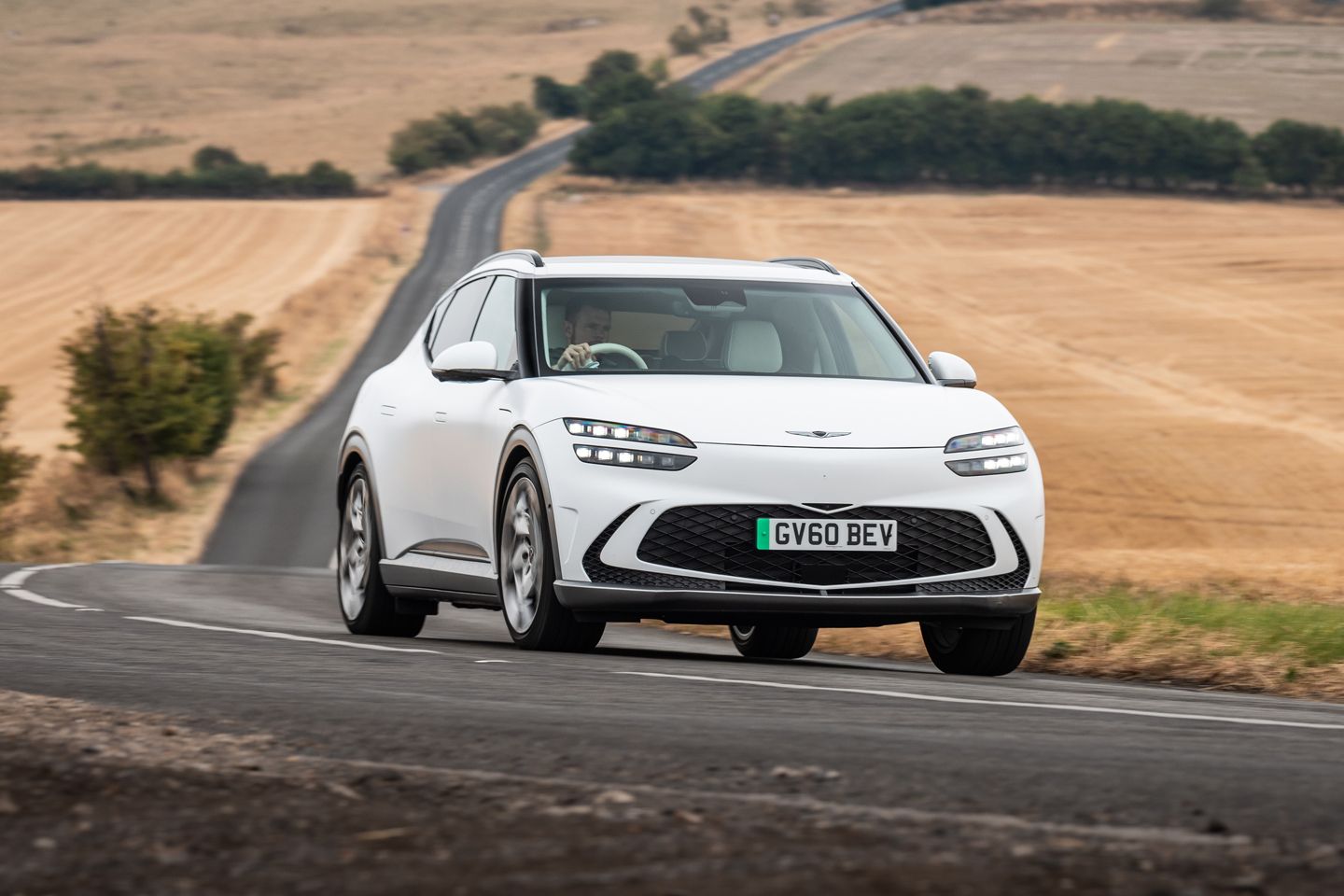 2022 Genesis GV60 Sport Plus | PH examination
You wouldn't envy any automaker entering a new market right now. Setting the bar high is Tesla's all-conquering success, of course, only now feels like a terrible time to sell any kind of car – let alone an expensive electric car.
Yet the advantage Genesis enjoys with the GV60 in the UK is a complete absence of luggage. You don't have to replace a much-loved powertrain with batteries or conjure up a classic shape to tap into an illustrious heritage. The prolonged introspection and twisting of hands that plagues so many automakers as they electrify themselves is simply not a problem for Genesis – it's only been around since 2015. All it has to do is is the range of electric cars that he believes has the best chance of selling. No risk of tarnishing the reputation of a brand that is less than ten years old, while retaining all the advantages of having Hyundai as the parent company.
All of this is most clearly evidenced in the appearance of the GV60, as it really is unlike anything else. There are some hints of other Genesis models, but that's a weaker family bond than, say, the Audi e-trons. That's not a bad thing, because it's eye-catching, dramatic and interesting – look how short those overhangs are – in a way that none of the Genesis cars have been until here. Quite what classifying the GV60 as is a more difficult task, lacking the malice of a true SUV or even the conventions that now dictate a coupé SUV. You could say it's kind of a silhouette similar to the I-Pace – and the Genesis matches the Jaguar for width and is only a fraction taller – but being over 150mm shorter the makes it even more squat. And harder to understand. It's safe to say that it won't appeal to all tastes, which is a good thing – Genesis has wholeheartedly embraced the design freedom afforded it as a relatively new brand electric vehicle, and it is commendable.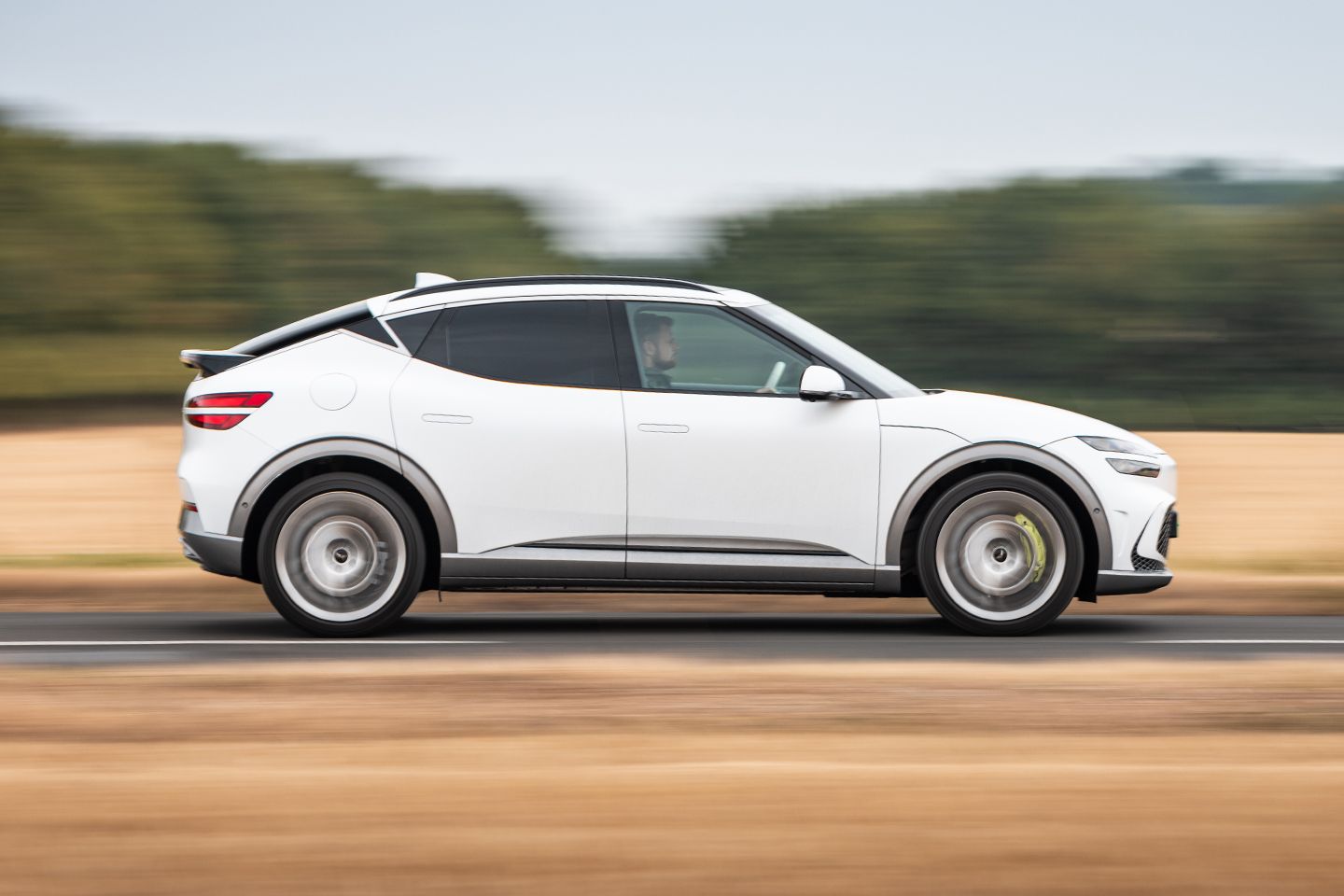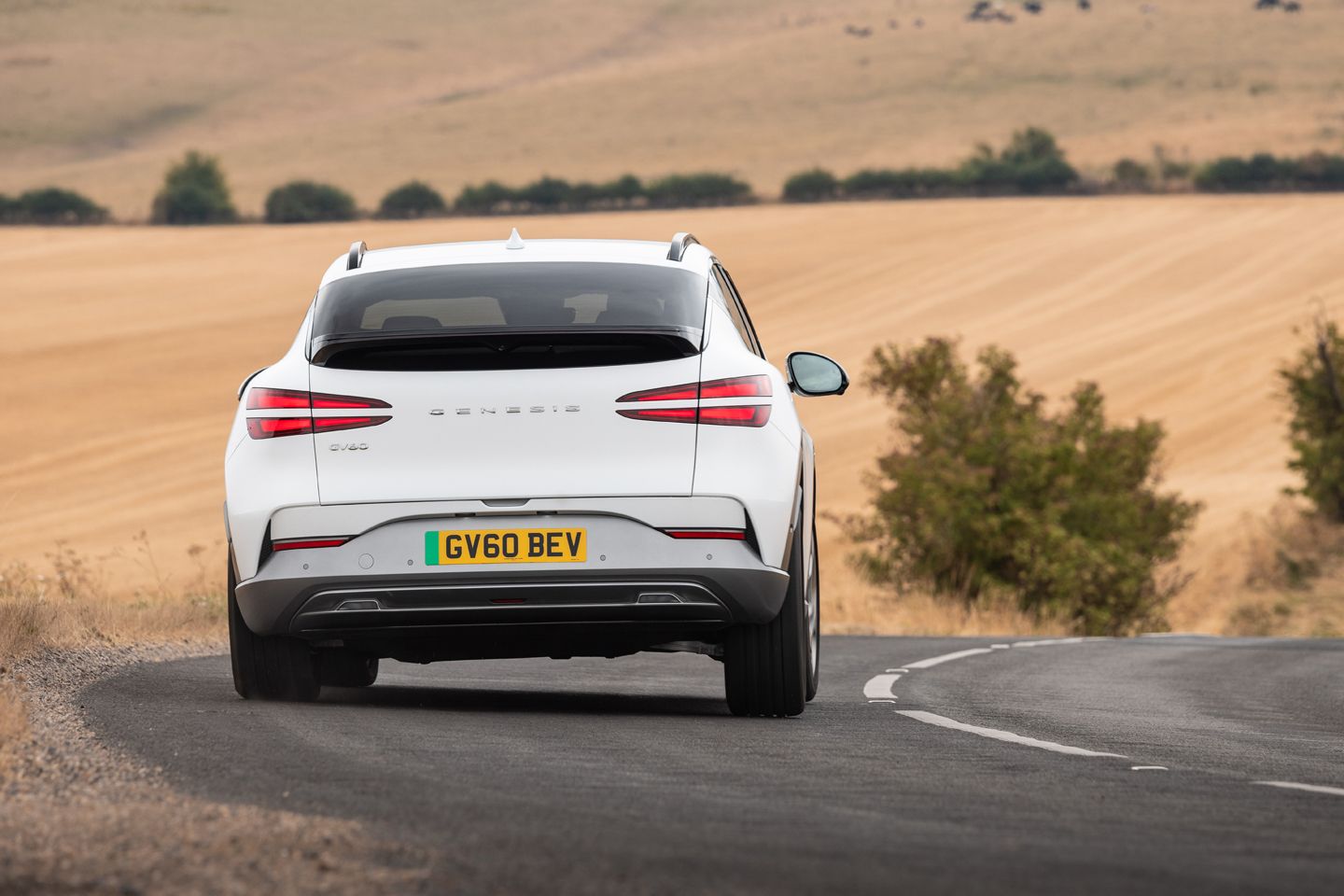 Also, remember that the GV60 shares its E-GMP architecture with the Kia EV6 and Hyundai Ioniq 5; good cars at the same time, and also very different from what is offered here. Which is more than can be said for the cookie-cutter SUVs from VW's MEB power toolkit. Some familiarity with Hyundai and Kia means an interior way ahead of anything VW, Audi or Skoda, with smart touchscreens, touch buttons where you want them and fun features – see the crystal ball that becomes the drive mode selector – so conspicuously lacking in darker offerings.
On the road, despite peaking at nearly 500bhp and the ability to hit 62mph in four seconds, the GV60 isn't what you might call conventionally rewarding like something like the I-Pace would be. There just isn't the feel or satisfaction of using any of the light controls for that. But the Genesis has other ways to be entertained, and attempting an alternative path for driving pleasure doesn't seem like a bad idea given the mixed results so far for EVs trying to emulate the ICE commitment. . Examples include the Boost button on the steering wheel that's hilariously overworked and super sharp, like driving a real Mario Kart with all 490 horsepower raging, the dashboard lit up red, and a countdown like you're part of a game televised. There's also a range of sounds (and volumes) on offer, from 'G-Engine' to 'Futuristic' and even a custom setting; turn up the combustion feel and the GV60 hums like an old Mazda rotary. The seat bear hugs you in sport mode, and the 'I-pedal' regenerative braking is initially so harsh it feels like the GV60 could do a stoppie. Some of them are contrived, sure, but those features at least ensure that the Genesis is memorable.
There is definitely quality here too. One-pedal driving is unnerving to begin with, though it doesn't take long to get used to, after which you'll barely touch the brake. (Which might explain why this pedal feels so lifeless at the top of its stroke.) Regeneration is also adjustable to four settings, mimicking the Honda e with a 'paddleshift' for severity and again giving the driver something to think, use and experience. Great paddles too.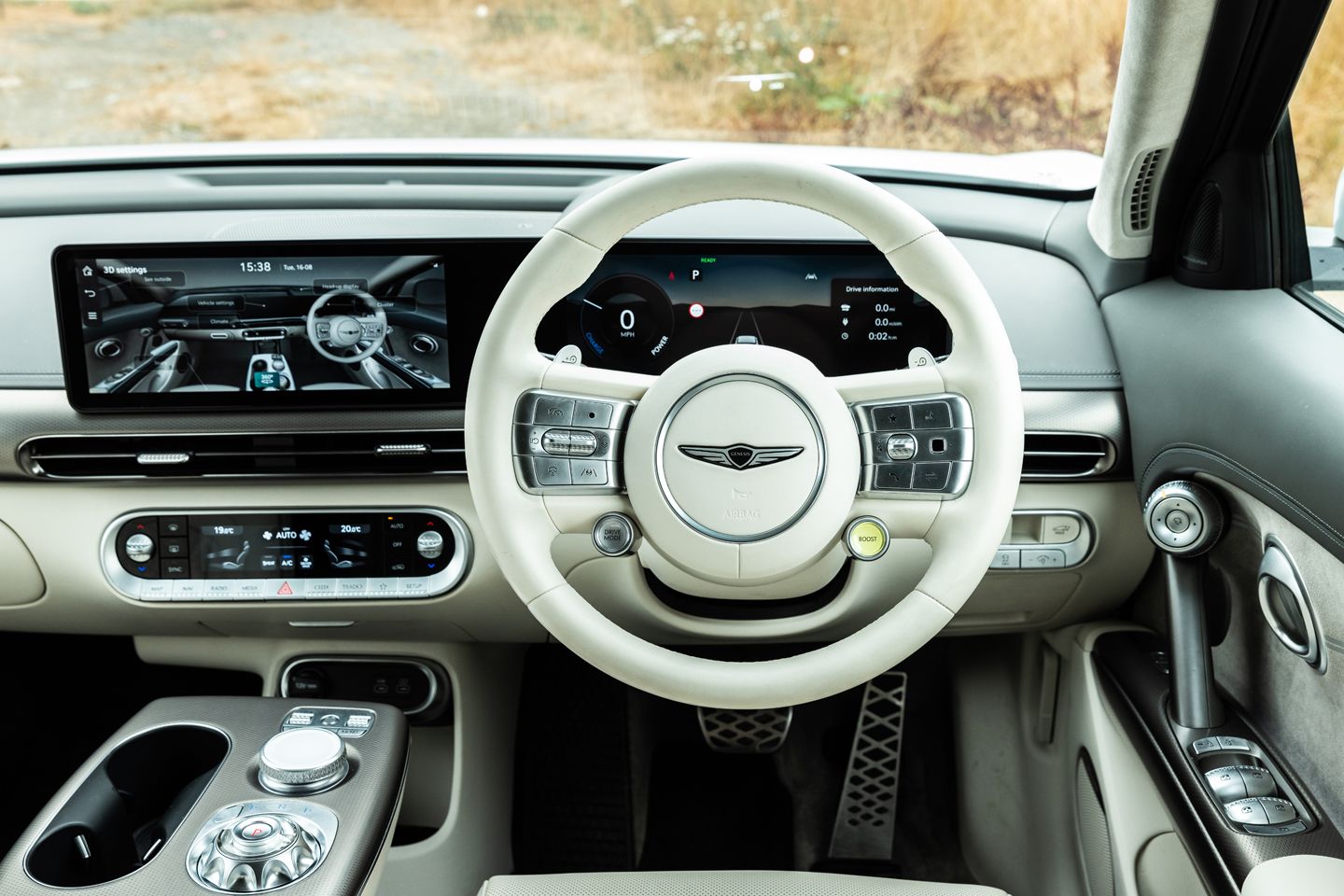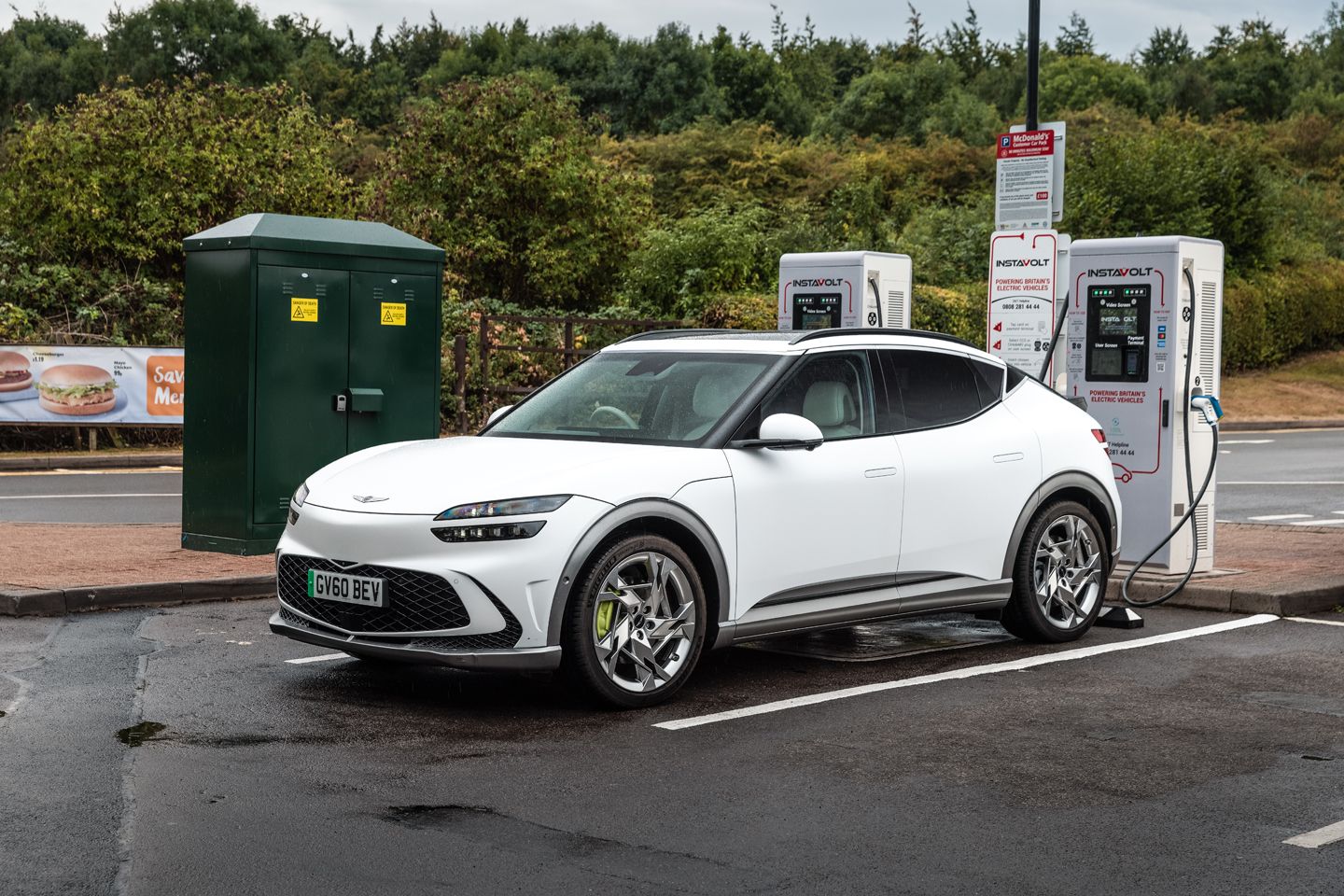 Plus, while the 21-inch wheels might seem an inch too big and a tad too heavy, the GV60 – much like the Ioniq 5, in fact – doesn't feel aggressively configured. So while much of the two-tonne mass is low and well-managed, with strong grip from the Michelin Pilot Sport EV tires, there's a bit of pitching and leaning, so at least you're letting people know that purchase is sold out. Again, it sounds preferable to those cars that are nailed down, it's like driving a monorail – but the Jaguar remains a more genuinely rewarding car.
And what about Drift mode? Honestly, we haven't found it. Not in time to take the pictures, at least. Although given how the GV60 behaves in the rain with everything off, with lots of wheel spin and unloaded wheel flare, it doesn't look like a natural skidder. Don't say you weren't warned.
While it's not the last word in EV dynamics or offering the most affordable battery-powered pseudo-SUV package – a dual-motor car like this costs £65,000 before options – the Genesis GV60 is an easy-going car. By not trying to be a record or an electrified redesign of an automotive hero, it has a personality of its own in what is already becoming a very crowded market. Back that up with an electrical architecture ahead of the rest (it can charge at 350kW, an Enyaq vRS is 135kW) and it's easy to build a case for the curio crossover. The badging and looks mean the GV60 won't find mass appeal, and those more affordable models further down the range probably make more sense, but those brave enough to take the plunge should see their faith at least partially rewarded. It's still unclear exactly what kind of car the GV60 is, but it's certainly a capable and – perhaps more importantly than anything else – likable car. That should matter a lot.
SPECIFICATION | GENESIS GV60 AWD SPORT PLUS
Engine: Two 160 kW motors, 77.4 kWh batteryTransmission: Single-speed all-wheel drivePower (hp): 490Torque (lb ft): 5160-62mph: 4.0sTop speed: 146mphLester: 2095kgInterval: 289 miles (WLTP, consumption 3.25 miles per kWh)CO2: 0g/km
Price: £65,405 (standard price; tested price £75,315, including Innovation Pack for £2,070, Comfort Seat Pack for £3,390, Exterior Pack for £880, Bang & Olufsen Sound System for £990, Roof Panorama Vision for £1,120, electrochromic exterior mirror with auto-dimming for £80, Matterhorn white matt paint for £1,100 and Lime brake calipers for £280.)